Bounce Rate vs Exit Rate – what's the difference and whichis more important?
These two metrics are often confused with each other. Butthey measure very different things.
In this article I'll explain the key differences betweenbounce rate and exit rate. I'll also discuss some other metrics closely relatedto bounce rate.
I'll also answer the much-debated question: does bounce ratehave an impact on SEO?
Let's dive in:
Item #1 – Bounce Rate
Bounce Rate is defined as the percentage of visitors to yoursite who arrive at your site on a particular page and then navigate away, or'bounce', from your site after only viewing that single webpage.
1.1 Definition
A bounce is only recorded if a user exits from the same pagethey entered your website and does not interact with any of the components onthat page (e.g. doesn't fill out an opt-in form, doesn't leave a comment etc)
The key characteristic of a bounce is that it is always aone-page session.
1.2 What Does High Bounce Rate Indicate
A high bounce rate is usually a negative for most websites.It indicates that there was nothing else on your website that was relevant toyour visitor.
A high bounce rate on a home page is particularly worrying sincea home page is often designed to distribute traffic to the rest of your site.
1.3 High Bounce Rate Is Not Always Bad
However, high bounce rate is not always a bad signal.
Some pages, such as lead capture landing pages, deliberatelycontain no links to any other page so that the visitor is entirely focused oncompleting the action that the page is targeting (i.e. submitting an emailaddress). This kind of page will inevitably produce a high bounce rate.
Similarly, a blog post that exactly answers the questionthat a searcher typed into Google will often have a high bounce rate. Far frombeing a negative, a high bounce rate in this situation indicates that yourcontent delivered what your visitor wanted. The searcher found what they wantedand then left.
Watch this video: 'What's The Difference Between Exit and Bounce Rates In Google Analytics?' (1 min 56 secs)
1.4 Industry Standards for Bounce Rate
Some industries or types of website by their nature havehigher bounce rates than others. Here are some typical bounce rates byindustry, provided by MonsterInsights:
Retail Sites: 20 %– 40%
Simple Landing Pages: 70% – 90%
Portals: 10% – 30%
Service Sites: 10% – 30%
Content Sites: 40% – 60%
Lead Generation sites: 30% – 50%
Conversion XLnotes that blog sites typically have higher than normal bounce rates. Comparedwith service sites, with a typical bounce rate of 10% – 30%, blogs typicallyhave a bounce rate of 70% – 90%: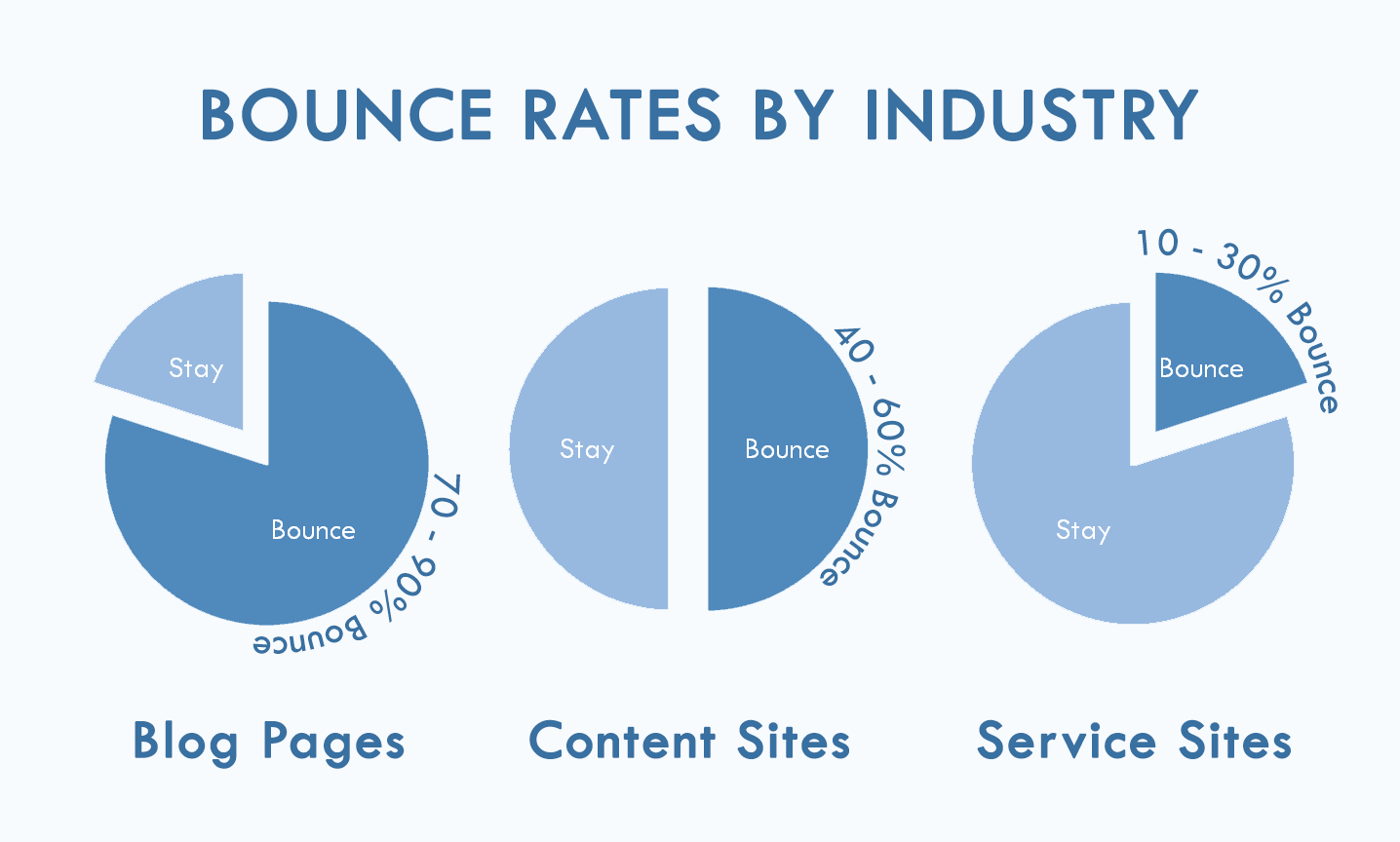 1.5 Where to See Your Bounce Rate
To see your Bounce Rate, login to Google Analytics and thengo to Behaviour > Site Content > All Pages:
Item #2 – Exit Rate
2.1 Definition
The Exit Rate for a particular page is the percentage of people who left your site from that particular page. For any given web page on your site, Exit Rate is the percentage of your visitors who left your site from that page.
Whereas Bounce Rate only records visitors who entered and existed your site from the same page, Exit Rate includes single-page and multi-page sessions. Exit Rate is not concerned about where a visitor entered your site, only with the page from which they exited.
2.2 What Does High Exit Rate Indicate?
As with Bounce Rate, a high Exit Rate is not necessarilynegative. It may simply indicate that the visitor found what they were lookingand then left your site.
However, a high Exit Rate on a page that is intended to takeyour visitors further into your site is a sign that something is wrong. HighExit Rates on particular pages often indicate a problem in your conversionfunnel.
2.3 Where to See Your Exit Rate
To find your Exit Rate in Google Analytics, go to Behavior> Overview:
You can also find your Exit Rate by going to Behavior >Site Content > All Pages:
Item #3 – Bounce Rate Vs Exit Rate: a Comparison
Bounce Rate and Exit Rate are often confused with eachother, so here are some differences between the two.
Bounces are always one-page visits whereas exitscan be more than multi-page visits
Bounce rate refers to the first page a visitorlands on when entering your site, while exit rate refers to the last page avisitor is on before they exit your site.
Exit Rate is the percentage of visits where aparticular page was last in the session, whereas bounce rate is the percentageof visits where that page was the only visited in that session
Item #4 – Bounce Rate and SEO
Google has repeatedly denied that it uses bounce rate recordedin Google Analytics as a ranking factor in their algorithm.
And there are Google reasons to believe this is the case.
Firstly, it would create an uneven playing filed, sinceabout half of all websites in the world are not registered with GoogleAnalytics.
Secondly, as we have seen above, high bounce rate is not necessarilya negative – it may simply mean that your page perfectly addressed thesearcher's query.
Thirdly, standard Bounce Rates vary enormously betweenindustries.
Rand Fishkin, formerly of Moz, once ran an interestingexperiment. He got hundreds of volunteers to click on the bottom listing onPage #1 of the SERP for a given search query and asked them to immediatelyclick away from the site.
But the experiment produced no predictable change in thesites SERP ranking, suggesting that ii is indeed the case that Bounce Rate doesnot affect SEO.
However, LarryKim of Moz analysed content on their own site and found that therewas indeed a detectable relationship between Bounce Rate and SERP ranking:pages with higher Bounce Rate ranked lower in the SERPS: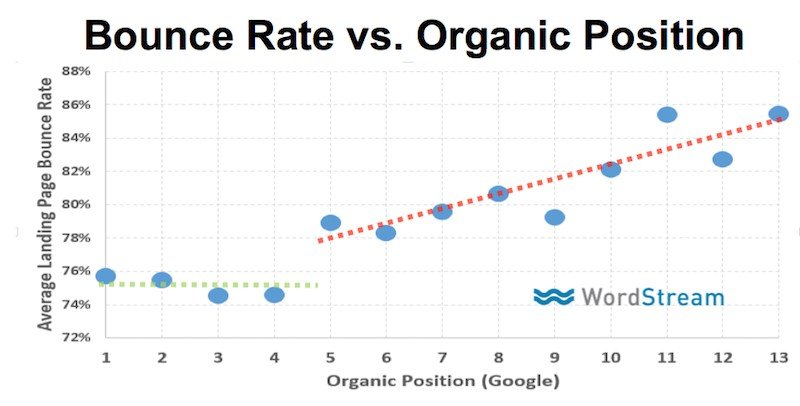 And Backlinko, in astudy of over one million Google search results, found a clear correlationbetween Bounce Rate and Google ranking:
So, despite what Google has stated, the evidence is thatBounce Rate does play a role in where your page appears in the search results.
But there's another metric, 'Return To SERP', that plays aneven more important role in the Google SERP rankings than Bounce Rate.
Item #5 – Bounce Rate and Time On Page
Bounce Rate does not record the amount of time a visitorspends on your page before exiting your site from that page.
Someone might spend 20 minutes reading your long formarticle, and then leave your site, having only visited that one page.
And that's one of the reasons a high Bounce Rate is notnecessarily negative.  'Time On Page' or'Dwell Time' is almost certainly one of the metrics that makes up Googleranking algorithm.
Item #6 – Bounce Rate vs. Return to SERP
There's another metric that also records time on page, andGoogle watches this one like a hawk.
It's called 'Return to SERP' and it measures the time avisitor spends on your page before clicking back to the SERPs.
A return to SERP is a bounce but unlike other bounces it's abounce that is always SEO negative.
Put simply 'Return to SERP' records the amount of time avisitor spends on your page before returning to the SERPs.
The reason a high 'Return to SERP' is bad for your searchrankings is it tells Google that your page did not answer the visitor's searchquery. And since Google's main concern is improving the match between searchquery and search results, a page with high 'Return to SERP' will quickly movedown the search results.
Item #7 – Bounce Rate and Pogo-Sticking
Pogo-sticking is when a searcher clicks on a SERP listing,realizes the page doesn't answer their query and quickly clicks back to thesearch results.
Pogo-sticking is what happens when a page has a high rate of'Return to SERP'. Whereas a bounce can be positive or negative, a high incidenceof pogo-sticking is always negative.
No one knows exactly how short a visit has to be to trigger the pogo-sticking algorithm. But its clear that the shorter the interval between arriving on your page and returning to the SERPs the more likely this algorithm will be triggered.
Google tracks pogo-sticking by recording short clicks andlong clicks. Short clicks are whee a visitor clicks on search results andquickly clicks back to the SERPs page. Long clicks indicate to Google asatisfied searcher.
Bonus Tip: How to Reduce Bounce Rate
So now that we've covered what bounce rate is and how itdiffers from Exit Rate, Dwell Time, Return to SERP, and pogo-sticking, you maybe wondering how can reduce Bounce Rate.
Especially since the evidence indicates that there is acorrelation between high bounce rate and lower search engine rankings.
However, before attempting to lower your Bounce Rate it'simportant to understand if your bounce rate is positive or negative. If thehigh bounce rate is simply the result of your visitor finding the informationthey wanted, then. There's no need to reduce your bounce rate.
If, on the other hand, a page has a high bounce rate ANDvisitors to that page are not completing the actions that the page is designedfor, then you may want to look at ways of reducing your bounce rate on thatpage.
8.1 Improve the Readability of Your Content
Break your text up with headings, bullet points and images.Nothing turns visitors away quicker than large, dense blocks of text.
8.2 Give Your Page a Single and Clear Call toAction
Every web page should have a purpose, something you want thevisitor to do (sign up to an email list, share it on social media, write acomment etc).
Make it clear to your visitor what you want them to do byincluding a clear Call To Action.
8.3 Optimize Page Load Time
According to Kissmetrics 47% ofpeople expect a web page to load in less than 2 seconds. Use the tips in thisarticle to make your web pages load faster.
8.4 Go Easy on Distracting Sidebar Widgets
Keep those flashing, brightly-colored widgets in your rightsidebar to a minimum. After all, you want your visitors to read your content,so don't distract them.
8.5 Optimize for Mobile
Check in Google Analytics to see if you have a high bouncerate on mobile devices. If so, optimize your site for mobile.
8.6 Write Shorter and Sentences and Paragraphs
Paragraphs and sentences on the Internet need to be muchshorter than in print media.
Keep your paragraphs to no more than three sentences and tryand keep your sentences to 65 characters or less.
8.7 Mix Up the Content
Use a mix of different types of content along with yourtext. Use plenty of images and include one or two YouTube videos on the topicof your web page.
8.8 Use Relevant Keywords
Make sure your web page is ranking for relevant keywords. Ifyour page is getting traffic from irrelevant search queries, that's going toresult in a high bounce rate.
8.9 Avoid Popups
Most people find popups that load as soon as you arrive on apage annoying. If you use popups, make sure they are exit-intent only.
8.10 Use Internal Links
Encourage your visitors to explore your site by sprinklingyour content with relevant internal links.
8.11 Ensure That All Links Open in a New Tab
Make sure all your links open in a new tab – if your linksopen in the same tab, your reader will lose your page as soon as they click ona link. The best WP plugin for ensuring that all your links open in a new tabor new window is OpenExternal Links In a New Window.
8.12 Improve the readability of your copy
Run your web page copy through an app like Readable, Hemingway,or Yoast(Readability Score in the free version).
8.13 Use Transitions
Transitions are short sentences that link one paragraph withthe next. They keep people reading and stop them bouncing away. For more on howto use transitions, see my guest post on SmartBlogger.
Conclusion
Bounce Rate vs Exit Rate – similar metrics that are easily confused. But they measure different things.
Bounce rate measures exits from single-page sessions, whereas Exit Rate measures exist from all sessions (single- and multi-page).
High Bounce Rates are not necessarily negative. They mayindicate that the searcher found exactly what they wanted on the first pagethey visited. Also, different industries have different bounce rates. Blogging,for example, typically has very high bounce rates.
Nevertheless, high bounce rates are generally to be avoided.There is a well-documented relationship between high bounce rates and lowsearch engine rankings.
To reduce the bounce rate of any particular page, tryimplementing some of the 15 tips listed above.
Related Articles

Rob Powell shares the traffic building techniques that are working for him. Join him as he 'cracks the safe' on traffic for first year bloggers - find out what works (and what doesn't work).

Latest posts by Rob Powell (see all)