An email headline analyzer is a tool that helps to optimize your headline so as to improve your open rates.
Here's a list of 21 email headline analyzer tools to help you write email subject lines that get clicked.
#1. Test Subject by Zurb
Test Subject is a tool for checking what your email subject line will look like on a mobile device.
As you know, mobile devices will truncate an email subject line, and this can lead to some truly embarrassing results, as shown in the image below: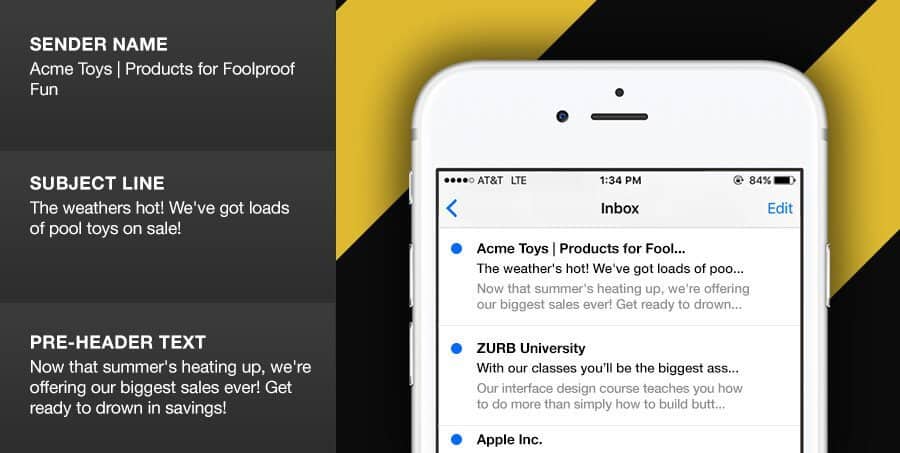 I tried it on the subject line of a recent email I sent out:
Test Subject gives you the results on three different mobile devices:
If you need to quickly check what your email subject will look like on mobile, this is a great tool.
#2. Email Subject Line Grader by Net Atlantic
Net Atlantic's Subject Line Grader is a simple email headline analyzer that analyses your subject line in terms of:
Subject line type
Character and word count
Percentage of action words
I tested it on a recent blog post title and got a score of 80:
#3. Spam Check by Postmark
Postmark's Spam Check examines the full header of your email plus email content and gives your email a Spam Assassin score:
#4. Subject Line
I really like this email headline analyzer!
Unlike some of the others, Subject Line gives you a succinct analysis of what's good and bad about your headline.
This is the headline I tested: "Bounce Rate Vs Exit Rate: 7 Things You Need To Know"

And this was the analysis: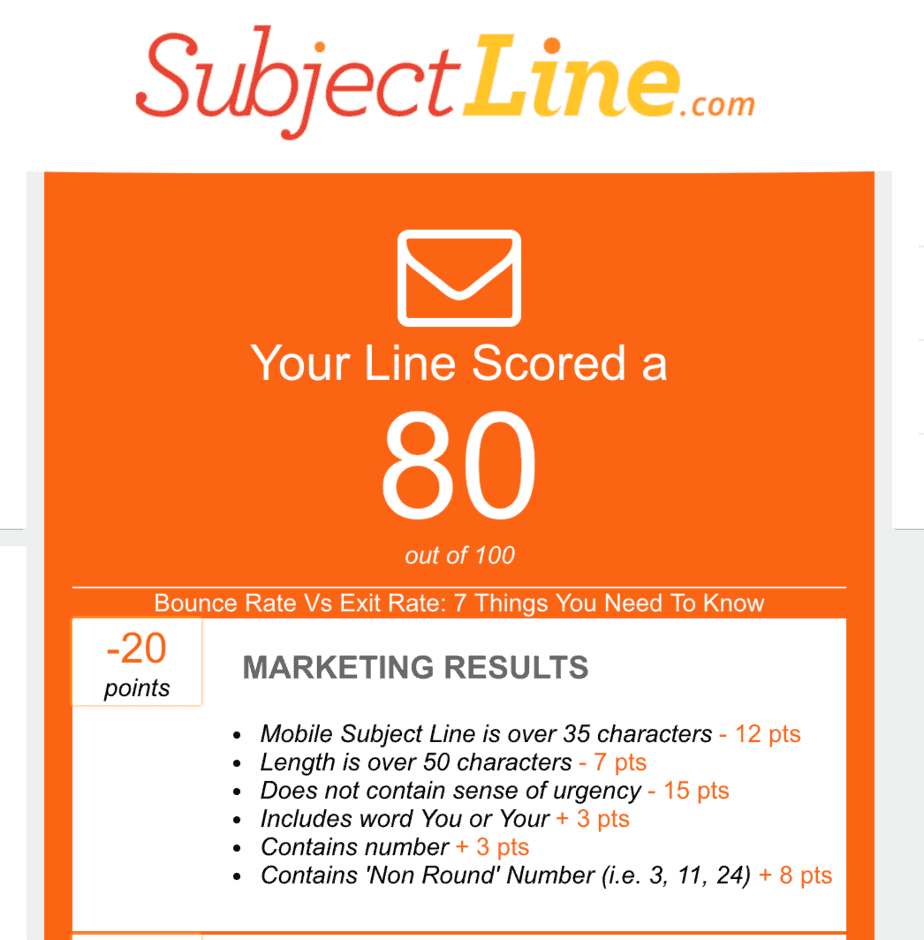 It's very useful to see the exact criteria this tool uses and how many points it assigns to the different factors.
Highly recommended!
#5. ISnotSPAM
ISnotSPAM tests whether the email you're about to send counts as spam. You send your proposed email to the address shown and then click on the button below to see your results:
#6. Headline Analyzer by CoSchedule
I love CoSchedule's Title Analyzer and I use it for every new blog post (I used it to create the title of this blog post). This tool used to be free but is now a paid tool.
However, you can still use it for free, though with certain limitations on the information it gives you.
For example, the free version will score your headline but it won't won't give you the "score-boosting suggestions" that you get with the paid version:
Also, with the free version, you only get to see your three most recent headline versions: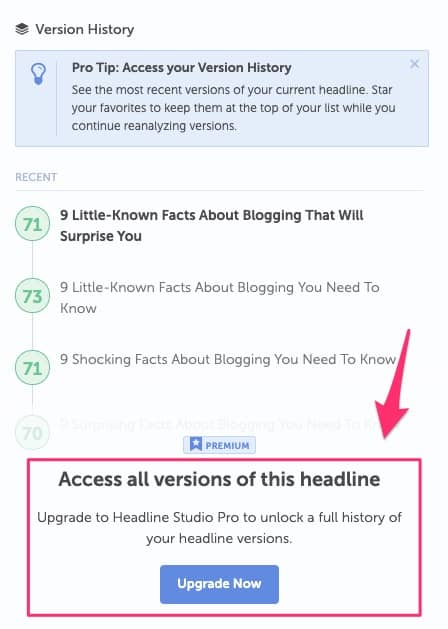 But even the free version version is still a valuable tool – it will help you write headlines that get more clicks.
#7. Internet Marketing Course's Free Headline Wizard
IMC's Headline Wizard is slightly different to the other tools listed here.
Instead of analyzing your headline, you enter some key information about your product or topic:
Product Description or Product Name (e.g. Weight Loss Program)
Main "Claim" Or "Goal" You're Advertising (e.g. Lose 7 Pounds In 7 Days)
A Desirable Result (e.g. Start Looking Like A Supermodel)
Another Desirable Result (e.g. Got Asked On A Date By My Hunky Delivery Boy)
And the headline generator suggests possible headlines:
These headlines may not be exactly what you're after, but they certainly get you thinking. And that's often what you need when you're stuck for headline.
#8. Emotional Marketing Value Headline Analyzer
The Advanced Marketing Institute's Title Analyzer is another headline analyzer that gives your headline a score, based on EMV, or Emotional Marketing Value.
I tried it out with my recent 'bounce rate' title:
This headline analyzer scores your headline on three criteria:
Intellectual – words that appeal to reasoning or evaluation
Empathetic – words which produce strong emotional reactions
Spiritual – words which appeal to people at a deep emotional level
#9. PutsMail
PutsMail is an email headline analyzer that tests your email for design and debugging:
#10. Impact Blog Title Generator
Like IMC's Headline Wizard, the Impact Blog Title Generator is not a headline analyzer but a headline generator.
It's a great tool if you're stuck for ideas – just click the button and you'll get a different title formula.
Here are some examples:


#11. SEOPressor Blog Title Generator
SEOPressor's Blog Title Generator is more of a title generator than an email headline analyzer.
I tried it with my 'bounce rate' example and the results were a bit odd:
However, when I tested it with a more mainstream keyword, the results were good: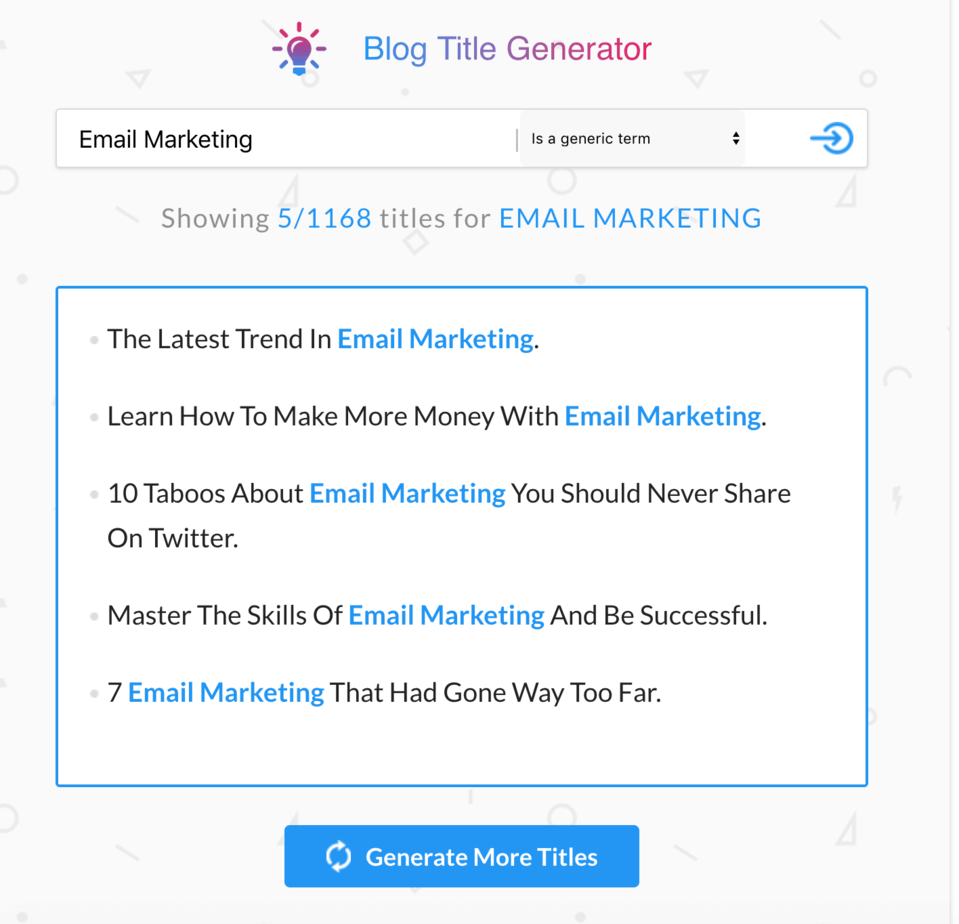 #12. TweakYourBiz Title Generator
Just type your keyword into TweakYourBiz Title Generator and it will give you at least 10 different title suggestions in various different title types such as list titles, best titles, and question titles: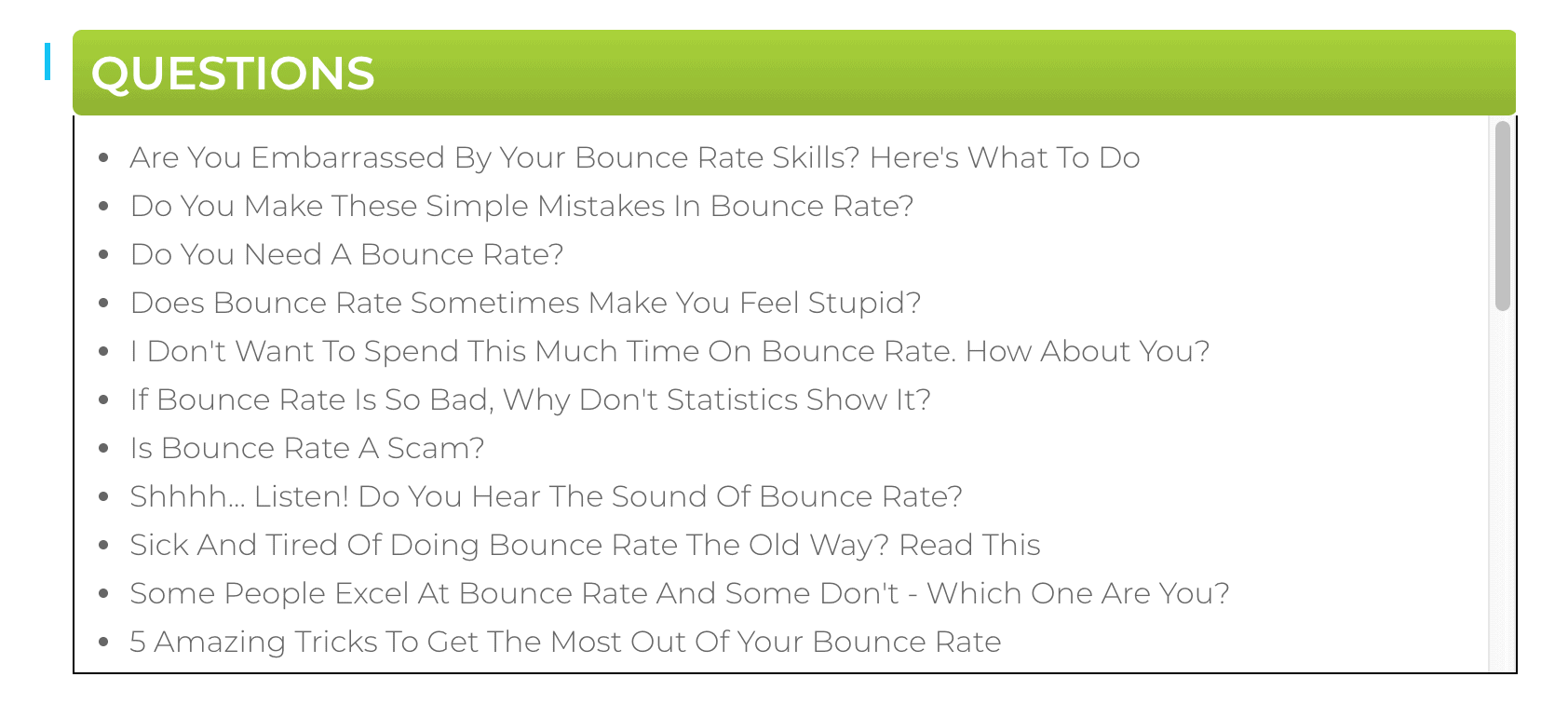 #13. Sharethrough
ShareThrough's Headline Tool simply counts the number of characters and words in your headline:
A useful headline analyzer if you need to know quickly whether your title is going to get cut off in the SERPs.
#14. Charcounter
Charcounter is simply character- and word-counter. Just type in your title and Charcounter will tell you how many characters (with and without white space) you've got:
#15. Headline Capitalization
As the name indicates, the Headline Capitalization tool is not an email headline analyzer – it simply offers various options for capitalizing words in your title:
#16. Portent's Content Idea Generator
Portent's Idea Generator is a title generator rather than a headline analyzer.
Just type in your keyword, and Portent comes up with a fun, engaging title:
Hit the refresh button and you'll get another:
And so on…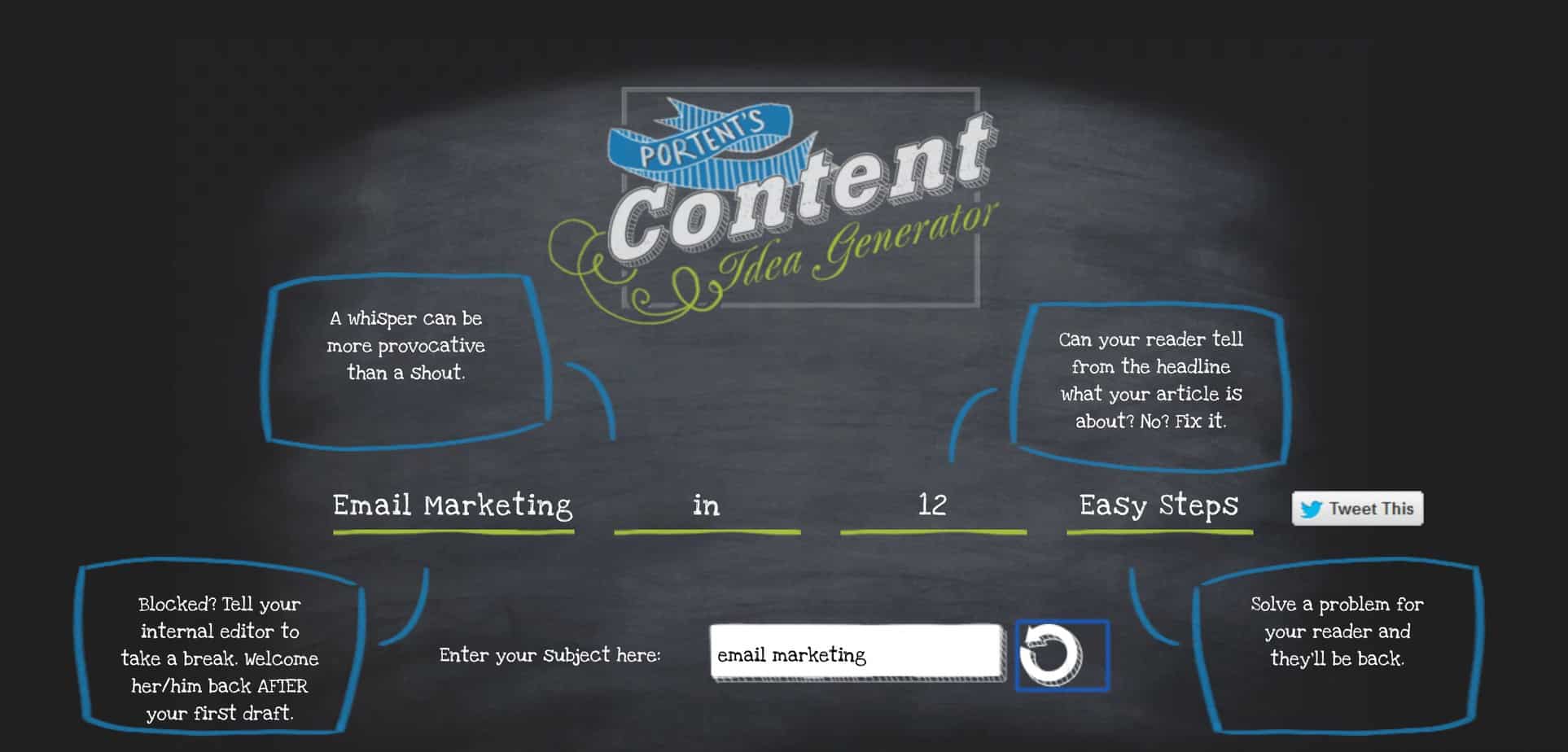 A great tool to get you thinking outside the box.
#17. HubSpot's Blog Topic Generator
Like the previous tool, Hubspot's Blog Topic Generator is a title generator and not a headline analyzer.
Just type in your keyword, and the Hubspot tool generates 5 different types of title:
#18. Subject Line Researcher
Mailchimp's Subject Line Researcher is an email headline analyzer that shows you the effectiveness of different keywords. It compares your headline with all subject lines ever sent through Mailchimp and uses a 5-star rating system to show you how each keyword performed.
This tool is only available for registered Mailchimp users and can be found on the 'Campaigns' page within Mailchimp
#19. Thrive's Headline Optimizer
This is a plugin by Thrive, who are well-known for their opt-in and lead generation plugins.
Thrive's Headline Optimizer is quite different to any of the other tools discussed here.
With this plugin, you just type in as many headlines as you can think of and the plugin starts randomly running the different titles to different visitors.
Based on statistical analysis of engagement factors, the plugin automatically starts to display the winning headline to your visitors to maximize engagement.
#20. Sumo Kickass Headline Generator
The Sumo Kickass Headline Generator works differently to most of the above headline analyzers. Instead of scoring your headline, it prompts you to use a particular format.
For example: [#] ways to [desired outcome] without [undesired outcome]: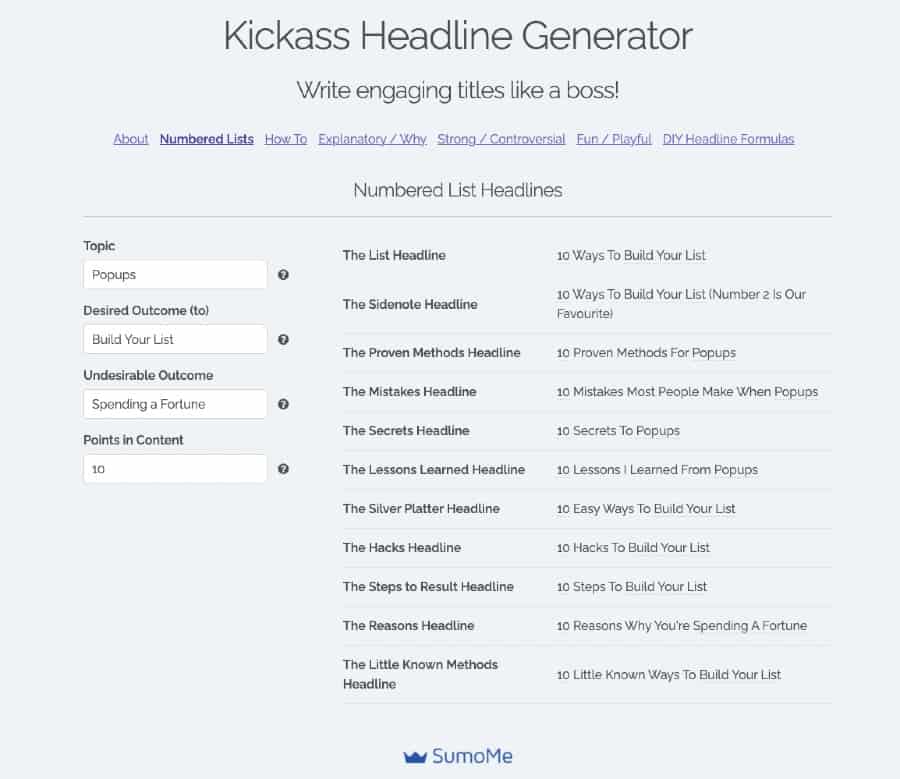 This tool will help you write headlines in the following categories:
Numbered Lists
How To
Explanatory/Why
Strong/Controversial
Fun/Playful
DIY Headline Formula
#21. Inbound Now Blog Title Generator
Inbound Now Blog Title Generator doesn't evaluate your headline: it simply comes up with different types of headlines, each time you click the button. Here are some examples:
This is a different approach to the other tools in this list, but definitely useful: clicking through the title idea generator will get your creative juices flowing and help you come up with new ideas for the article headline.
Conclusion
These 21 headline analyzer tools will help you write headlines that people actually click on.
According to marketing experts, 80% of people never get past the headline.
That's why optimizing your headlines is time well spent: it will put your articles in the 20% that people actually click on.
More Articles About Email Marketing