Are you struggling to get new subscribers? I have a solution for you: build your list on Medium.
It's a platform where you can publish (or re-publish) your blog posts.
It has built-in traffic – over 60 M visitors per month (Source)
It was created by one of the co-founders of Twitter
And it's free!
A lot of beginning bloggers are using Medium to jump-start their traffic and quickly build their email lists.
This article shows you how to do it.
Re-publishing on Medium
Re-publishing your blog posts on Medium is a great strategy for building traffic and growing your list, especially for beginning bloggers.
But you might be wondering if you'll get hit by Google with a 'Duplicate Content' penalty?
No. And here's why:
When you use the Medium WordPress plugin to cross-post to Medium, the plugin automatically tags the original source of the article (i.e. the original post on your website) with the canonical link.
What does that mean?
The canonical link tells Google that your website was the original source for that article and you won't be penalized for 'duplicate content'.
If you're still worried about this issue (as many people are) check out this information from the folks at Medium.
Back to the topic in hand – how to create a Medium newsletter signup.
How To Create a Newsletter Signup on Medium
Medium is a great way to get hundreds of new subscribers in a matter of months.
Here's how to build your list on Medium:
Step #1. Create a form
Go to Upscribe and sign up for a free account.
Once you've confirmed your email address log back in to your Upscribe account.
Then click on 'Create Form' in the top menu:

Next, enter a Call To Action (CTA) and a Description:
Then hit 'Create' (you'll need a paid subscription to use the other features):
Step #2. Choose an integration
Click on the 'Integration' of your choice (in other words, your email marketing platform).
Upscribe integrates with about 20 providers, including the big guys like Aweber, GetResponse, MailChimp, ConstantContact etc.
You'll be asked for an API Key, which you can get by going to your email marketing provider and clicking on 'Settings'.
Somewhere in that area you'll see a link or tab labelled 'Developer API' – copy it to the clipboard, head back to Upscribe and paste it in to the API field.
Upscribe will then ask you which of your lists (if you have more than one) you want to connect to. Choose the list you want to connect to: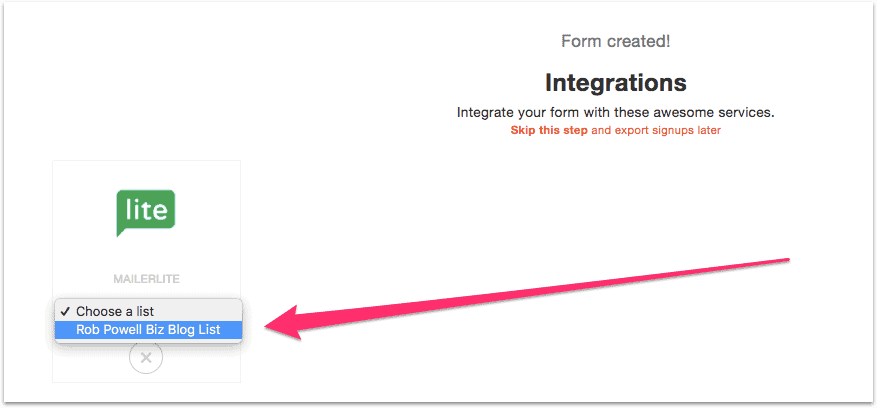 …and click 'Save':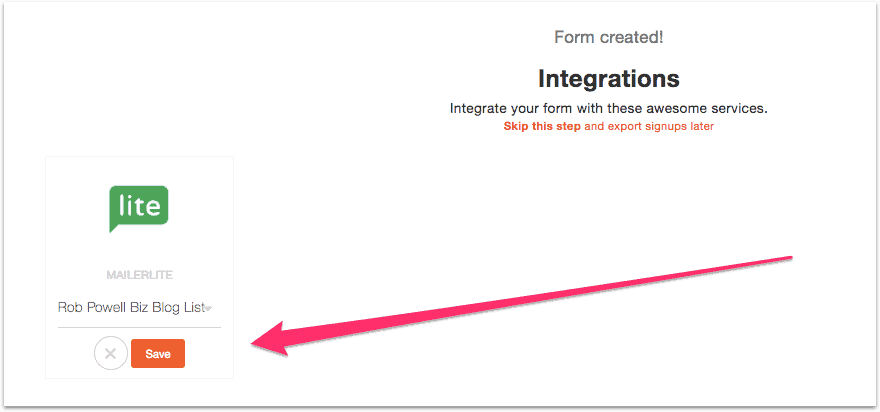 On the next screen you'll see a preview of your Signup form:
Step #3. Embed the form in your post
Next, click the lozenge-shaped button in the top right corner, to copy the link to the clipboard:
Then click on the round profile pic and in the drop down menu, look for 'Stories':
Click on 'Stories' and then click on one of your posts ('Stories'):
On the next screen, click on 'Edit':
Place your cursor at a point in your article (or 'Story') where you want the Signup form to appear, and press ENTER on your keyboard.
A plus sign will appear:
Click on the plus sign and then click on the 'Add an embed' icon:

In the field that opens up, paste in the link that you copied to clipboard a few steps ago:

Your embed link will look like this:
Then hit RETURN and Voila! You've just created a Medium newsletter signup form.
Your Upscribe Signup form appears in the body of your article:
And that's it!
You're now ready to build your list on Medium and collect hundreds of new subscribers from your re-published blog posts.
More Articles About Email Marketing