Online quiz makers allow you to create interactive quizzes that serve as powerful lead generation tools. People love taking quizzes and sharing the results on social media. That's why they have viral potential and can help you extend your reach globally.
To create a quiz, you need an online quiz maker, which can also provide you with analytics reports that you can use to enhance your marketing and lead generation efforts. You can learn more about your audience and craft lead quizzes that address their pain points.
But how do you choose the right online quiz maker with so many options out there? Not without some trial and error, but we're here to help you narrow down the list and make an informed decision.
These are some of the best online quiz makers for lead generation.
7 Best Online Quiz Makers
#1. ProProfs Quiz Maker
ProProfs Quiz Maker is one of the most intuitive online quiz makers. It's a user-friendly platform with a simple and uncluttered layout that makes creating quizzes a breeze. It's packed with useful features that simplify the process and help supercharge lead generation.
With this online quiz maker, you can create a quiz in minutes. Once you choose your quiz type (scored or personality), you can pick one of 100+ ready-to-use templates or make one from scratch.
You can then create questions, make them engaging and interactive with images, videos, and presentations, and create lead forms for capturing leads.
There's even a library of 100,000+ pre-made quizzes that you can use in an instant.
ProProfs Online Quiz Maker is fully customizable, with 100+ themes and backgrounds to choose from and features for branding quizzes for marketing purposes.
It's compatible with all systems and devices, provides in-depth reports and analytics, and supports 70+ languages and 100+ third-party integrations. It can automate lead capture and marketing, transfer leads to your CRM, setting, and send vouchers or certificates to help you convert leads which sets it apart from the mainstream lead generation sales apps.
ProProfs Quiz Maker Pricing
Essentials – $ 20 /month (billed annually)
For public & non-secure quizzes e.g. lead gen:
Public Quizzes
Unlimited Quizzes & Attempts
Reports & Tracking
No Advertisements
Branding
Leads, Offers, & Social Media
Email Integrations
Sell Quizzes
Business – $ 40 /month (billed annually)
For secure quizzes & tests e.g. training & assessments:
All Essential Features Plus
Private & Secure Quizzes
150 Private Users
1 Instructor, 1 Classroom, 3 Groups
Timed Exams & Availability
1,000,000+ ready-to-use Questions
Question Banks
Learning Paths
Grading
Advanced Reports
Business+ – $ 200 /month (billed annually)
For unlimited quiz takers, assessment library, API, certificates, multiple instructors & more:
All Business Features Plus
Enterprise Security
Unlimited Private Users
Unlimited Instructors, Classrooms & Groups (& Sub groups)
Roles & Permissions
Upload Videos, PPTs & Docs
Professional Assessment Library
Certification, Compliance & Reminders
API, SSO, SAML & LDAP
SCORM, TinCan & LRS
Advanced Features
Integrations & Workflow Automations
Phone Support
Onboarding & Training
ProProfs Quiz Maker
#2. Interact Quiz Maker
Interact is a feature-rich online quiz maker designed for lead generation, audience segmentation, and driving traffic to your website. It is withut doubt one of the best online quiz makers.
It's a drag-and-drop builder with 800+ customizable quiz templates in 40+ different categories. It lets you add branching logic to your personality, scored, and assessment quizzes and style them to match your branding.
You can enable email capture to create custom opt-in forms to display before revealing the results. They're fully customizable, so you can create your own copies and CTAs, and make the forms required or optional.
This tool enables you to segment your audience according to their answers and results and view individual lead responses for personalized follow-ups. Segmenting your audience is an aspect of creating a quiz funnel.
Designed for maximum conversions, it can redirect the quiz results to your landing pages. To help you understand your audience better, it provides survey-style analytics with engagement scores.
It also has built-in promotion features for making announcement bars or pop-ups on your website to promote your lead quizzes. When it comes to integrations, it supports all major email marketing and marketing automation tools.
Interact Quiz Maker Pricing
Lite – $17/mo paid annually
Unlimited quizzes + completions
Up to 60k email leads a year
Branching Logic
Basic Integrations
Help Docs, Live Chat + Email
Growth – $53 /mo paid annually
Everything in Lite
Up to 120k email leads a year
White label – you can replace the Interact logo with your own
Intermediate Integrations: Basic Integrations + HubSpot, Infusionsoft, Maropost, and Ontraport
Conversion tracking
Advanced Analytics – optimize your quiz with aggregated audience data and drop-off graphs
Pro – $125/mo paid annually
Everything in Growth
Advanced Integrations: Intermediate Integrations + Act-On
Unlimited email leads per year
#3. Thrive Quiz Builder
Thrive Quiz Builder is a part of Thrive Suite, but it's also available as a WordPress plugin. If you get the entire bundle, you'll be able to build websites, landing pages, mailing lists, and much more.
With its online quiz maker, you can create stunning, complex quizzes with branching logic and text or image questions. You can build opt-in forms, gather insights on your quiz takers with powerful analytics, segment your subscribers, create dynamic results, and enable different URL redirects based on the results.
The setup wizard will walk you through the steps, the troubleshooter will alert you of anything you may have missed, and A/B testing features will help you optimize quizzes for maximum conversions.
There's also a built-in badge editor for styling your quiz badges as if you were coding them from scratch. Upload and resize images, change colors and backgrounds, experiment with opacity, and add text in any format. The badges are optimized for social media, so you don't have to resize them for different channels.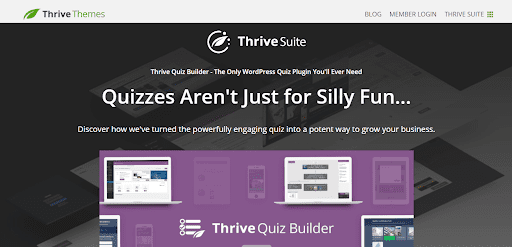 Thrive Themes Quiz Builder Pricing
(only available as part of Thrive Suite of Tools)
Thrive Suite Quarterly – $99 p/quarter
Thrive Suite Yearly – $299 p/year (save $97 p/year)
Thrive Quiz Builder
#4. LeadQuizzes
LeadQuizzes is one of the most popular online quiz makers for marketers. Designed to boost lead capture, it can help you generate more quality leads, get to know your audience better, and grow your business.
As per the platform's website, it can help you capture up to 500% more leads.
It offers 75+ templates for creating online quizzes, surveys, and lead forms, which you can customize to match your target audience and branding. To make them more engaging, you can add image-based questions.
The platform offers URL redirects for sending your quiz takers to various landing pages based on their results. It supports all devices, offers several targeting options, and analyzes your leads with powerful analytics features to help you make smart marketing decisions.
LeadQuizzes integrates with many third-party marketing tools to maximize the power of your lead generation. It also lets you add multiple clients to your account, so you don't have to switch between apps and waste precious time.
LeadQuizzes Pricing
Lite – $37 /month (billed annually)
1 website account
2,500 responses / month
Includes all features
Great for entrepreneurs and small businesses.
Growth – $74 /month (billed annually)
5 website accounts
5,000 responses / month
Includes all features
Great for businesses and agencies with high traffic and multiple websites.
Advanced – $186 /month (billed annually)
15 website accounts
15,000 responses / month
Includes all features
Great for businesses and agencies with very high traffic and lots of websites.
LeadQuizzes
#5. Riddle
Riddle is a user-friendly online quiz maker for building quizzes, surveys, and polls in 15 different formats. Like all these other tools, it's quite straightforward and doesn't require any coding.
It does have a CSS editor that can be a real treat if you know how to code, but you can build wonderful quizzes without it.
It features a drag-and-drop builder, where you can create and customize almost everything, from questions, answers, and results to all design elements. You can also add videos, images, and GIFs to every question and answer.
You can create custom opt-in forms to capture leads, as well as include in-quiz ads for enhancing your marketing efforts.
Riddle is excellent for generating leads, segmenting them based on their responses, increasing conversions and sales, and fueling your business growth. It lets you publish your creations anywhere with its WordPress plugin and automatically sends personalized follow-up messages based on the results.
It has loads of reporting features, integrates with a host of marketing systems, email clients, and other tools, and automatically gathers contact data from leads before sending it to your connected apps.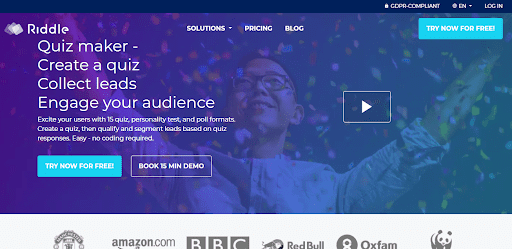 Riddle Quiz Maker Pricing
Basic – $ 29 per month
Unlimited quiz creation
Customization
email collection with Riddle branding
Unlimited lead collection and storage – send to MailChimp, AWeber, and many other CRM tools.
Pro – $ 49 per month
All the features of BASIC – plus
100% white labeled
Add your own logos
redirect your leads based on quiz results
call to action buttons
custom landing pages.
Team – $ 249 per month
Every PRO option
plus total creative freedom.
Add custom fonts
use our CSS editor, and more
Create and collaborate as a team
monetize your quizzes with banner or video ads
Enterprise – $ 2499 per month
Seamlessly integrate Riddle across your organization
Includes SSO
link your own video/image library
work with your infoSec & legal teams about any custom requirements
Riddle Quiz Maker
#6. Woorise
If you're looking for a straightforward tool with a simple layout and no friction, then Woorise is another great online quiz maker. You'll get accustomed to it in minutes.
You can use it to create quizzes (trivia, personality, scored, and graded), surveys, and polls. There are 38 question types to choose from, features for adding images and creating lead captures, and settings for timers and leaderboards.
The tool supports multi-language translations, URL redirects, and email follow-ups. You can set up automatic emails to stay in touch with your quiz takers and seize lead generation opportunities.
You'll get charts and tabular reports, along with many other data for learning more about your audience and making the most of your quizzes.
Woorise features many options for customizing the look and feel of your creations with your branding and color schemes. You can save all your custom themes to ensure consistency across all quizzes, surveys, and polls.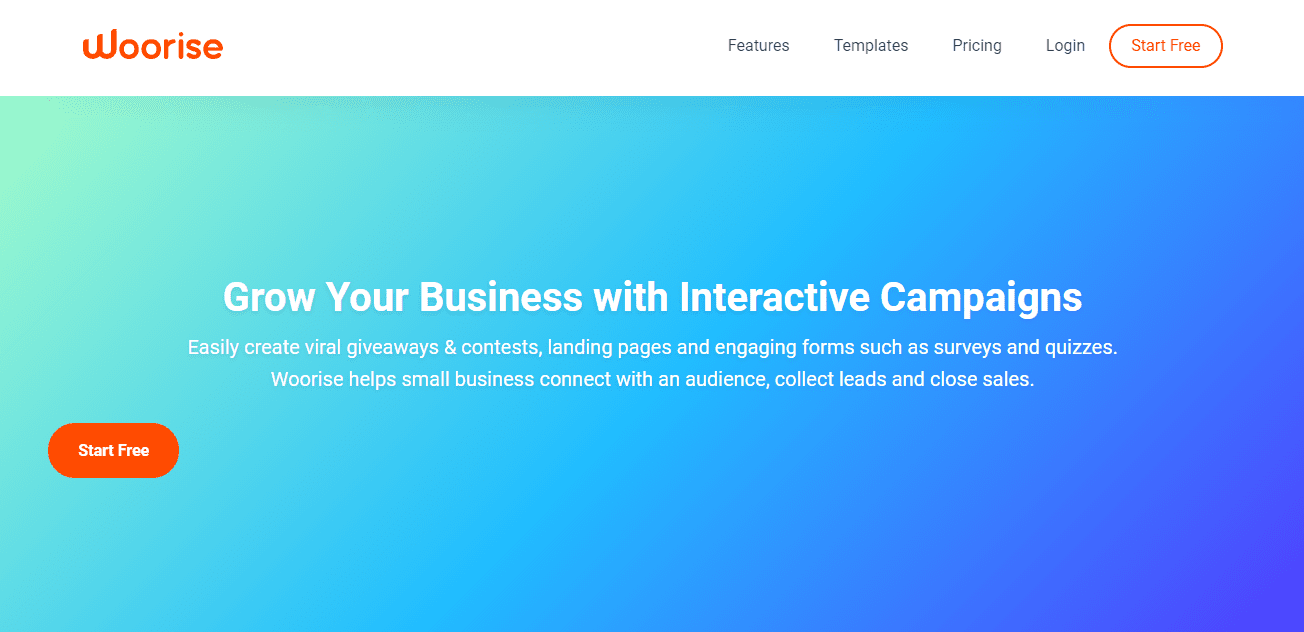 Woorise Quiz Maker Pricing
Free – $0 p/mo
Unlimited Campaigns
200 Entries / mo
Email Support
Basic – $23 p/mo
Unlimited Campaigns
2,000 Entries / mo
Email & Chat Support
No Woorise Branding
Grow – $39 p/mo
Unlimited Campaigns
5,000 Entries / mo
Email & Chat Support
No Woorise Branding
Integrations
Email Notifications
5 Team Users
Pro – $79 p/mo
Unlimited Campaigns
20,000 Entries / mo
Email & Chat Support
No Woorise Branding
Integrations
Email Notifications
10 Team Users
Media Upload
Photo Voting Contests
Custom Domain
Woorise Quiz Maker
#7. ClassMarker
ClassMarker is another intuitive and easy-to-use online quiz maker. Use it to create quizzes in any format and for any purpose, including lead generation. At first glance, the number of its features may make it seem a bit daunting, but it's quite the opposite. You can learn how to use it in minutes.
You'll notice that many features are aimed at employee training and academic assessments, but even those can bring you value to an extent. Others are ideal for generating leads.
The tool has a question bank to choose from and lets you upload images, videos, documents, and audio files to each question. You can also provide additional information to every question to display after given answers.
You can customize your quizzes for branding purposes, set up time limits, and send quiz takers to relevant landing pages via URL redirects based on their results.
ClassMarker supports multiple languages, has extensive security features, integrates with many third-party tools, and offers advanced analytics reports. It even lets you export quiz results for offline analysis.
ClassMarker Quiz Maker Pricing
Professional 1 – $39.95 USD per month
(Get 2 months free when you buy yearly)
All features included
400 Tests taken per month
Top up with Credit packs at any time
Professional 2 – $79.95 per month
(Get 2 months free when you buy yearly)
All features included
1,000 Tests taken per month
Top up with Credit packs at any time
ClassMarker Quiz Maker
Conclusion
All of these online quiz makers offer a free trial, so it's wise to test them out to see which of them ticks all your boxes. Some even offer a free version, albeit with limited capabilities.
Online quizzes have a much higher engagement rate than most other forms of online content, and this makes them excellent lead magnets for growing your list. If you aren't using an online quiz to grow your list, start today! You might be surprised at the results.
More Articles About Quizzes