A product recommendation quiz, also known as a shoppable quiz, is a very effective way to engage your visitors and help them find the products or services that match their needs. It is also a powerful list building tool.
This article explains how to make a product recommendation quiz (for free) that will funnel your visitors to your products and help build your list.
I show you six different examples of these quizzes and give you best practices to follow when making your own quiz.
I also show you how to make your own product recommendation quiz using a template from Interact Quiz Maker.
What Is A Product Recommendation Quiz?
Shoppers can become confused and overwhelmed by the choices available. That's why people often prefer to go into a bricks-and-mortar store: they want to ask someone familiar with the products which product or service best fits their needs.
The problem with most ecommerce websites is that there is no personalized advice.
That's where a product recommendation quiz comes in – it's like having a staff member on your website who guides your potential customer to the product or service that's right for them.
How A Product Recommendation Quiz Works
The mechanics of a product recommendation quiz are quite simple.
Every time the quiz taker chooses one of the answers, that choice converts into a vote for one of the outcomes of the quiz.
Whichever outcome (or result) gets the most votes, is the winner. That outcome is then displayed to the quiz taker as a product recommendation.
The questions in a product recommendation quiz should focus on the different characteristics of your products or services. For example, in a quiz for eyeglasses, one of the questions might be "are you looking for round, rectangular, or square spectacle frames?"
In other words, you use the questions to match the preferences of your customer with the various different products you have on offer.
Benefits of A Product Recommendation Quiz
It is well known that customers can be overwhelmed by too many choices, to the point where they simply leave your website, unable to make a choice.
The main benefit of a product recommendation quiz is that it overcomes this 'choice paralysis' by engaging with your customer and guiding them to the product that best matches their needs.
Production recommendation quizzes (PRQs) allow you to explain to your visitors why your product and services will help them. And that can dramatically increase your conversion rates.
According to a study by Monetate, retail browsers who engage with a recommended product have a 70% higher conversion rate.
Another benefit of PRQs is that they allow you to gather information about your visitor's preferences. You can then feed this information into your CRM and use it to send your visitors information that better serves their needs.
Segmenting and tagging your visitors based on their responses to your quizzes can further drive an increase in sales and conversion rates.
Examples of Product Recommendation Quizzes
Here are some examples of websites that use product recommendation quizzes to boost user engagement and drive sales.
Product Recommendation Quiz Best Practices
Here are some tips for getting the best results from your product recommendation quiz.
Use image based questions
We process images much faster than text, so include an image with each answer. This will keep people engaged with your quiz.
Notice how powerful the images are in this product recommendation quiz:
Ask only 5 to 8 questions
People get tired of a quiz that has too many questions. More than about 8 questions and your drop-off rates will increase dramatically.
Show a progress bar
If possible, add a progress bar to your quiz – this will increase completion rates. When people can see their progress with each question they answer, they are more likely to complete the quiz.
Have 3 to 5 outcomes
Aim for 3 to 5 quiz results. With more than 5 outcomes, the quiz becomes unwieldy and hard to operate.
Ask for an email address
Make sure to add a lead generation form before showing the results of the quiz. A quiz is a powerful list building tool, especially when you use it to segment your audience.
N.B. It's a good idea to include an option for those who want to see their results, but don't want to give their email address.
Segment users by quiz responses and results
Use the quiz to gather information that allows you to segment your audience according to the answers they give and the results they get from the quiz.
Add a coupon code
Provide a coupon code with the quiz result – this will increase the conversion rate of your quiz.
Show the quiz at the right time and place
Show the quiz to your visitors at the point where they most need help in sorting through the options. This might be on a category page, for example. Another good time to show your quiz is when your visitor is just about to leave (on an exit-intent popup).
Add a one-click 'Add To Cart' button
The less friction in your funnel, the more conversions you will get. When you show the results of the quiz, include an 'Add To Cart' button instead of sending your visitor to another page.
Choose a Quiz Platform
There are over a dozen online quiz makers that you can use to create product recommendation quizzes.
Some offer more advanced features than others, such as conditional logic and answer piping.
But you don't need these advanced features to make a product recommendation quiz.
Here are the minimum features you need to make an effective product recommendation quiz:
Lead capture form
Integration with CRMs and email marketing platofrms
Ability to use both text and images
Correlate answers with results
Call To Action buttons
Progress Bar
Embed quiz on website or social media
Ability to add coupon codes to results page
Here is a sample of some of the best known online quiz makers. They all have the minimum requirements specified above and they all have a free version:
How To Make A Product Recommendation Quiz
So now that we've covered what a product recommendation quiz is and how it works, let's build one together!
For this exercise I'm going to use Interact Quiz Maker because it's the quiz builder I'm most familiar with and it's one of the best quiz platforms out there. It also happens to have a free trial, which means you can build your first couple of quizzes for free.
We're going to build this quiz around the topic of purchasing a sofa. In fact, I'm going to take an Interact quiz template and look behind the scenes, so you can see how it works.
This is the easiest way to build your own product recommendation quiz: take one of Interact's templates and customize it for your own products.
Step 1 – Start with the results
Go to Interact and sign up for a free account.
Then click on 'Create New Quiz':
In this exercise, I'll be using the 'Which sofa should you splurge on' quiz template in the 'Interior Design' category.
When building a product recommendation quiz, you should always start with the results. This is because the results are your product recommendations – the questions and the answers need to lead to those product recommendations.
In the edit screen of your quiz you will see six headings: Cover, Questions, Results, Lead Generation, Social Share Settings, and Conversion Tracking.
Click on Results: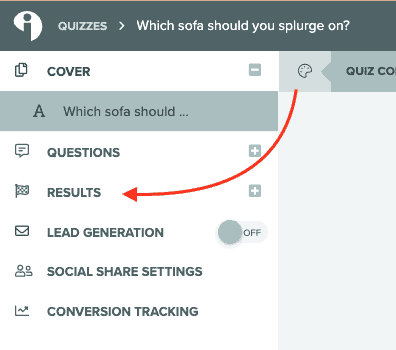 You'll see that this quiz has four results:
To edit the existing results, simply click on the result and then click on the 'Edit' tab:
You can also add a new result by clicking on 'Add New Result'.
Step 2 – Then do the questions
Once you have your Results ready, the next thing to do is create the questions.
Click on the Questions tab in the left side menu. Again, you can edit the existing questions and you can also add a new question: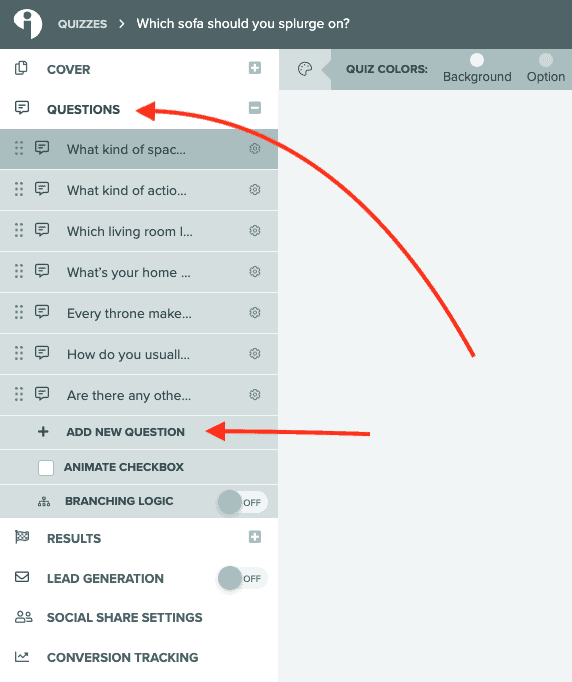 Step 3 – Then do the answers
Once you have your questions done, you need to formulate three or four answers to each question.
The Answers are shown immediately beneath each question. To edit the questions just start typing within the text area.
Step 4 – Then correlate answers to results
Beneath the questions is a 'Correlate' button. Click on that button to match answers to results:
On the 'correlate answers' screen, you have the answers on the left side and the results on the right side. These are the answers and results for Q1:
To change the correlation between answers and results, click on the black node next to the answer and then click on the node next to the result that you want to match it to:
For each question in your quiz, the answers will be different but the results will be the same. These are the answers to Q5 – notice that the results are the same as for Q1:
Every time someone clicks on an answer to a question, it is a 'vote' for one of the four results. At the end of the quiz, one of the four results will have more votes than any other result.
That is the winner of the quiz and becomes your product recommendation for the quiz-taker.
Step 5 – Customize the results page
On the results page, you can change both the image and the text:
The Call To Action feature at the bottom of the results page is where you would put your 'Add To Cart' button.
Change the colors of your quiz
You can change the colors of your quiz, including background, buttons and progress bar, in the top menu of the edit screen:
And that's how you create a product recommendation quiz.
If you use one of the templates provided by Try Interact, all you have to do is swap out the text and images that are already there with your own – it's as simple as that!
Conclusion
So that's how to make a product recommendation quiz.
Let's quickly recap the process.
Start with quiz results (which are your product recommendations) and work back from there. Aim for no more than about seven questions – more than that and you'll find people start dropping off from your quiz.
Try to come up with questions and answers that lead to your various different products or services.
Remember that each answer acts like a vote for one of your results or outcomes. The result that gets the most votes from your quiz-taker is the winner – that result becomes the product recommendation.
If you are at all confused about the process for making a product recommendation quiz, simply take a template (like the one I used in this article) and swap out the text and images to fit your products or services.