WhatsApp Marketing is the use of WhatsApp for marketing purposes. As simple as that.
Of course, that doesn't mean spamming, randomly bombing unknown numbers, or sending bulk messages to your customers.
WhatsApp Marketing consists of establishing relationships aimed at discovering products and services, information, attention and sales with your potential clients and existing clients.
Marketing in WhatsApp can cover any phase of the funnel, from knowledge (awareness) to the sale, through the entire process of lead management or after-sales service.
About this WhatsApp marketing guide
This guide is an adaptation from the "WhatsApp Marketing: The Definitive Guide" by Iván Fanego at AppCritic.
Let's dive in.
What is conversational commerce?
Conversational commerce is the use of chats, messaging, and other conversational interfaces (such as voice) for marketing and sales purposes.
The term was coined in 2016 by Chris Messina, who noted that in the first quarter of 2015 messaging apps had eclipsed social social networks in monthly active users. Was he right or wrong in predicting the rise of conversational commerce?
Well yes and no, here is the classic graphic of Google Trends with the interest of the term, both in English and in Spanish: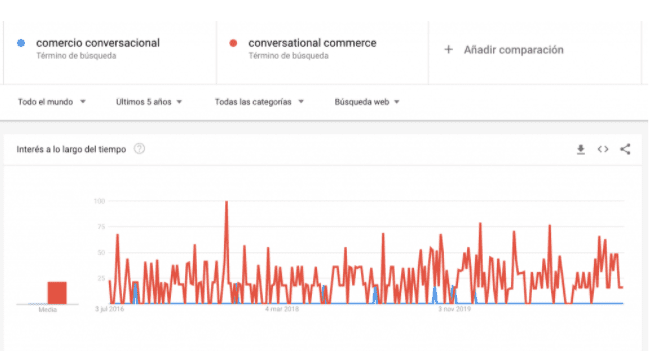 It's a term that never really took off, especially in Spanish. It brings to mind the much anticipated rise of voice search (remember when we all bought smart speakers that were going to change our lives? Spoiler: they didn't).
But chat and "conversational commerce" have slowly crept into our lives.
WhatsApp Marketing has not stopped growing, as you can see from its steady growth in Google Trends over the last 5 years:
So,"conversational commerce" is here to stay, though perhaps not in the way we might have expected.
Every time you open a web chat to answer a question, when you receive information from a Telegram company group, and every time you write to the local hairdresser on WhatsApp, you are making use of "conversational commerce".
WhatsApp usage statistics around the world
WhatsApp is one of the most used and downloaded applications in the world. Without even collecting data, let's do a simple litmus test with parents and friends: how many family and friends of yours do not use WhatsApp?
Maybe you have some, but they're in a minority. Ask yourself the same question for Facebook, TikTok or Twitter. I'm guessing the answer was the same.Ok, maybe if you are in the United States it's different, but that's an anomaly, believe me
This quick "friends and family" poll gives us a rough idea of the omnipresence of WhatsApp (at least in Europe and Latin America). It is probably the most transversal communication tool that we have: it is used by young people and the elderly, by people of poor digital skills and by totally digitized guys.
In 2020, when we analyzed the Status of WhatsApp Marketing, (here is the 2022 update) the figures were already impressive , and since then, it has continued to grow.
Let's look at some figures:
Number of monthly users on WhatsApp
Here's a collection of the most important data, but in this post (in Spanish) you have more detail. Another good compilation is this post by Brian Dean.
That makes it the most popular messaging platform in the world.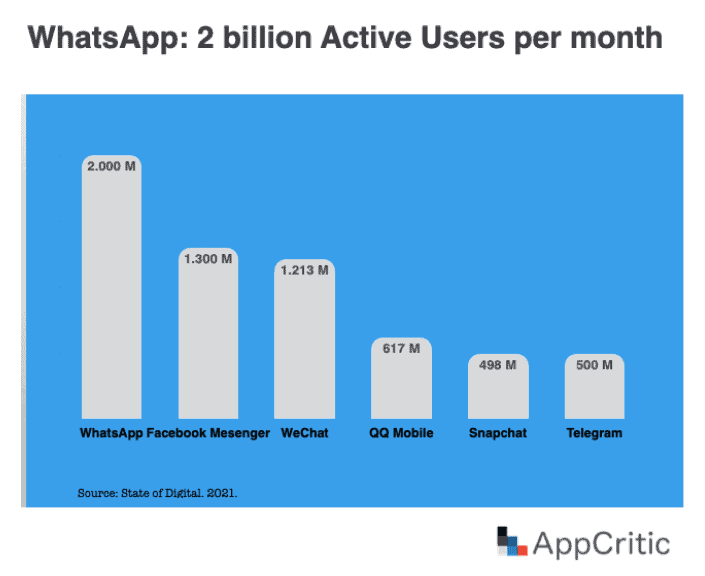 Source: State of Digital 2021. You can also see the graph in Statista.
WhatsApp is the number 1 messaging platform in almost all countries
In 58 of the 94 countries analyzed by similarweb, WhatsApp is the most used messaging application. The second is Facebook Messenger (both owned by Facebook).
Main messaging platforms in the world. WhatsApp wins by a landslide.
Source: similarweb, 2021.
This data is important: it means that WhatsApp could be the tool that allows you to connect with your customers in most countries. The exceptions would be Asia (China dominates WeChat, in South Korea KakaoTalk, in Japan and some Southeast Asian countries is Line) or the United States (Facebook Messenger and Snap). But elsewhere, it is very likely that your clients (or potential clients) use WhatsApp.
100,000 million messages are sent every day on WhatsApp
Source: Facebook.
38 minutes of average daily WhatsApp consumption per day
Source: HootSuite.
WhatsApp is underused as a marketing channel
We have just seen how WhatsApp is one of the most downloaded applications in the world, the most used messaging application, probably the most transversal…
However, it is one of the least used in marketing, according HubSpot and its annual report:
Source: HubSpot.
And although there has been growth in the use of WhatsApp marketing by companies, it hasn't been as much as expected: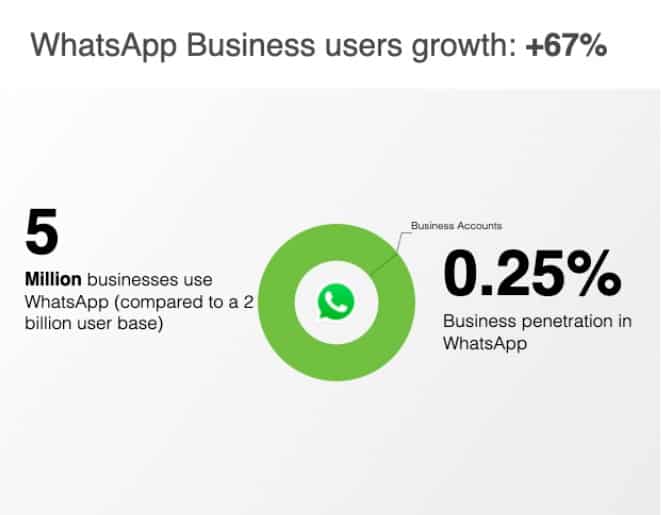 How to use WhatsApp as a business
I think we can agree that WhatsApp is an application that everyone uses. But it's one of the least used by businesses.
Let's look at how businesses might use WhatsApp. There are four ways to use WhatsApp as a business.I'll list them from low to high "complexity":
As a "normal user". That is, you have your business and you use your WhatsApp (perhaps with the company number, perhaps with your personal number). This is very common way to use WhatsApp, especially in the early stages.
You use the WhatsApp Business app.That is, the official WhatsApp application for small businesses and businesses.
You use a specialized tool that gives you access to more functionalities. WhatsApp Business is great, but it can fall short very quickly. Do you need several people using it? Oops, you only have one user, it's not multi-agent. Do you need to integrate it with a CRM? Sayonara. Do you need to program a simple chatbot? No. WhatsApp Business is perfect for businesses with only one location (or very few) and with a low or medium volume of messages, but when we need to "spread" the use of the account, it will not be enough. This is where specialized tools come in. There are many, and I have organized some of them in this directory of professional tools for WhatsApp (it is in Spanish, you will be able to check good tools, most of them in English).
You directly use the WhatsApp Business API. And this is the "top" option. Perfect for large companies, it allows us to tailor what we need.
WhatsApp Business and WhatsApp Business API
WhatsApp Business and WhatsApp Business API – what are the differences and which one should you use?
Use WhatsApp Business if you have little volume and are starting out (if you have already started with your "normal WhatsApp", that's ok too) As you grow and need more functionality, You may need the WhatsApp Business API.
Business tools for using WhatsApp
WhatsApp CRM: these tools seek to recreate the experience of a CRM in WhatsApp (organization of conversations by status in the sales funnel, commercial tools and that kind of thing) or that facilitate integration with CRM from third parties (Zoho, Pipedrive, or whatever).
Multi-agent WhatsApp or multi-user WhatsApp. One of the great limitations of WhatsApp Business is that we cannot have more than one person answering. Many solutions solve just that, the possibility of having several people managing conversations, usually with different roles (assigning conversations, responding). Totally necessary for slightly larger teams.
Bots on WhatsApp. Creating a chatbot for WhatsApp is one of the things most demanded by many users. The definition of chatbot varies, but basically it is software that with the use of artificial intelligence or rules (or a combination of both) interacts with people through conversational interfaces (usually chat, sometimes voice).
Live Chat on the web with WhatsApp. One of the most demanded solutions, because it applies to almost all types of users to include a chat solution on the web. In fact, in AppCritic we use one in the directory. There are many "life-long" solutions, but using WhatsApp would make everything easier. And it is just what these types of tools allow.
WhatsApp for eCommerce. An interesting category that we will see grow as more businesses begin to have stores and businesses on WhatsApp and for payments to arrive globally.
Integration with email. Email will continue to be one of the key points of contact. But not the only one. Being able to do things like send reminders on WhatsApp does not mean that it does not make sense to continue sending emails. Combining both can be the key to success.
Customer service with WhatsApp. This is something transversal and increasingly common: why make the customer dizzy with calls when we can attend them on WhatsApp?
WhatsApp Pay
Payments on WhatsApp are looking very promising. They will allow payments between users (e.g. in Verse) and also between businesses. For a long time they were established in India, then in Brazil, with temporary withdrawal in between.
Conclusion
In summary, WhatsApp is not just a useful tool for customer service. There are also marketing functions based on WhatsApp.
The potential for WhatsApp marketing is huge: it is one of the fastest growing apps in the world, it has one of the biggest user bases in history and it uses the oldest, most human-friendly interface: conversation. Now is the moment to start doing WhatsApp Marketing.