Compiling a list of seed keywords in your niche is a vital step for developing a content strategy and improving your website's topical authority.
But first...
Seed keywords are primary keywords, also known as 'head keywords' or 'main keywords'.
They typically consist of just one or two words.
One characteristic of seed keywords is they have not been qualified by a modifier.
In the screen shot below Google Auto Suggest has added various modifiers to the seed keyword 'copywriting':
By contrast, long tail keywords are seed keywords plus a modifier.
You can also think of seed keywords as 'focus topics' – they are the main topics within a given niche.
For example, if your niche was weight loss, your seed keywords might be 'recipes', 'diets', 'fitness', and 'lifestyle'.
If you run an online business, your seed keywords will usually be your website's products and services.
A good way to start thinking about your seed keywords is to fill in the blanks in the following statement:
"My business is in the [XYZ] niche and I provide [ABC] products and services to clients trying to find solutions to [123]".
Why Are Seed Keywords Important?
Compiling a list of seed keywords is the first step in finding long tail keywords.
The latter are simply seed keywords that have been modified by the addition of one, two, or three additional words.
In the following example, Google Auto Suggest has created long tail keywords from the seed keyword 'blogging':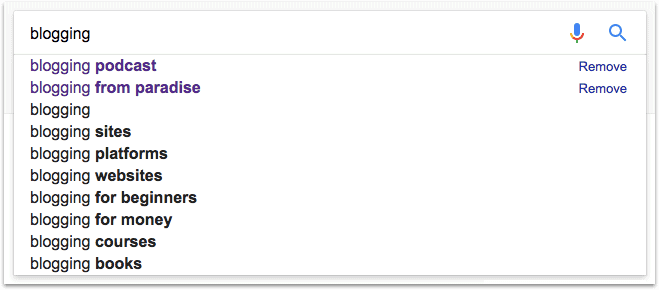 But more than that, seed keywords help you map out the territory occupied by your niche.
Why is this important?
Two reasons:
1) Understanding the Geography of Your Niche
What's the first thing explorers like Christopher Columbus and Captain James Cook did?
That's right - they drew maps of the New World (Columbus) and the Australian continent (Cook).
Anyone wanting to explore and conquer a new territory needs a map. And the seed keywords within your niche provide you with that map.
If you don't understand the territory of your niche, there could be whole areas of that niche that you're ignoring, that you aren't covering in your blog posts.
And that brings me to the second reason you need to understand your niche territory - topical authority.
But before I get on to that, there's something I need to clarify.
Compiling a list of your seed words is not about imagining what your ideal niche would look like – it's about putting together a list of keywords that other people in your niche are already writing about.
2) Using Seed Keywords To Increase Your Topical Authority
You may not have heard about topical authority but it's something you're likely to hear a lot about in the months ahead.
Until recently, links from other websites were the most important factor in building domain authority.
Backlinks have traditionally been the No.1 factor Google used in deciding how to rank a web page.
Why were backlinks so important?
Because unlike humans, search engines weren't able to read and understand content.
So they relied on humans linking to content. The search engines reasoned like this:
The more incoming links a piece of content had, the more valuable and authoritative it must be.
But that's all changing…
With the advent of Latent Semantic Indexing (LSI) and the Hummingbird algorithm (announced by Google in 2016), Google is now able to understand your content. Google can now assess how good your content is without relying on incoming backlinks as a measure of authority.
In short, topical relevancy is replacing backlinks as the factor that Google uses to rank pages in the results.
And Google can now determine topical relevancy for both individual pages and for your website as a whole.
How Do You Get Topical Authority?
One of the ways to increase your domain's topical authority is to cover all the primary keywords or focus topics within your niche.
Through Latent Semantic Indexing (which is a fancy term for being able to understand context) Google now has a pretty good idea of what the main topics are in your niche.
Google will assign greater topical authority to a website that covers 80% of the topics within its niche than to a website that covers only 50% of the topics within its niche.
And that brings me back to seed words:
Your seed words will provide a map of the territory of your niche. And that map will show you if there are gaps in your content.
The fewer the gaps in your content, the better your site will rank for topical authority.
My Process For Finding Seed Words
If you Google 'how to create a list of seed words' the advice mostly falls into two categories:
Brainstorm it
Use a keyword research tool like UberSuggest
Brainstorming simply means racking your brain for all the primary keywords associated with your niche. That's not exactly methodical and you'll most likely end up with big gaps.
On the other hand, if you enter your main niche topic (e.g. content marketing, blogging, weight loss) into a keyword tool like UberSuggest, you'll be given literally hundreds of long tail keywords. But you're looking for 20 to 50 seed words.
Obviously, these 2 approaches are not going to give you the seed words you need.
So I came up with the following technique:
Extract 10 Keywords from 10 Blogs in Your Niche
Make a list of 10 prominent blogs within your niche.
In my case this list might contain the following blogs:
If you've been blogging within your niche for more than a few months you should be able to pull these blog names off the top of your head.
Then visit each blog site and look at the titles of the 10 most recent blog posts.
Most bloggers know the importance of including keywords in their blog titles so each of these 10 blog titles should contain a keyword or keyword phrase.
Extract these keyword phrases from each of the 10 blog titles and note them down under the name of the blog.
Do this for each of the 10 blog sites that you identified for your niche.
When you've completed this exercise, you should have something that looks like this: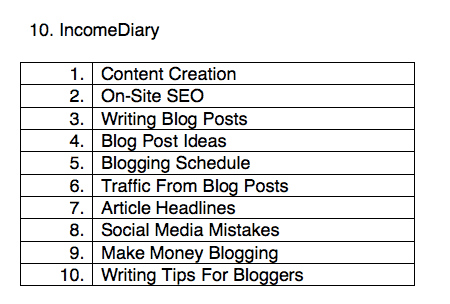 Place these Keywords on a Mind Map
Now go to your favourite mind map software and enter these 100 focus topics. I use Simple Mind, which is free. You can download it from here.
When you've finished, your mind map will look something like this:
Organise Your Keywords By Topics
Now you need to sort these 100 focus topics into categories.
To do this, create 10 to 20 upper-level topics and start grouping your 100 focus topics under these 10 to 20 categories.
You'll end up with something that looks like this:
This is the map of your niche territory.
Convert Your Mind Map into a Word doc
Now export your mind map as a text file and then save the text file as a Word document.
You'll now have a document containing about 100 focus topics divided amongst 10 to 20 upper-level categories:
You can use this document in two ways:
Use the main categories to make sure there are no gaps in your content strategy. The topical authority of your website will depend on the degree to which you've covered all the main topics within your niche.
Use the focus topics as long tail keywords (you can also use the main categories as seed words to generate more long tail keywords).
Compiling a comprehensive list of seed keywords for your niche is a vital part of your content strategy.
It will give you ideas for new blog post topics and help you research new long tail keywords.
But more importantly, having a comprehensive list of seed keywords will help you improve your topical authority by ensuring that there are no gaps in your content.

Rob Powell shares the traffic building techniques that are working for him. Join him as he 'cracks the safe' on traffic for first year bloggers - find out what works (and what doesn't work).

Latest posts by Rob Powell (see all)