Quizzes make fantastic lead magnets because they are interactive and have very high conversion rates.
This article shows you how to make a quiz lead magnet that will engage your visitors and help you build your email list faster.
What is a quiz lead magnet?
A quiz lead magnet is a quiz that gives the user a result in exchange for an email address. It works better than most lead magnets because it engages your visitors and gives them information tailored to their needs.
The quiz can be a scored knowledge test, an assessment of their needs, a diagnosis of a problem, or even a personality test.
A quiz lead magnet should be short - no more than 10 questions - and it should contain a lead capture form where the user enters an email address to receive the quiz results.
Why quizzes work better than traditional lead magnets
More engagement
Visitors to your website are in passive mode - they read your content but they are not actively engaged with your website.
This is why it's difficult to get website visitors to take action.
And that's why quizzes are so effective as lead magnets.
A quiz is interactive: once your visitor starts answering quiz questions, they are engaged with your website. And that makes it much more likely they will take action and become a lead.
Quiz lead magnets have much higher conversion rates than other kinds of lead magnets because your visitor has already committed themselves.
By the time they have completed the quiz questions, they are time committed. That makes it much more likely that they will take the next step and enter an email address to get the quiz results.
More information
Another reason why quizzes work better than other lead magnets is that they give you vital information about your visitors. You can use this information to show your visitors offers that are tailored to their needs.
You can also use that information to segment your email list. That way you only send your subscribers information that is relevant to their needs. And that dramatically increases your conversion rates.
How to build a quiz lead magnet
Step 1. Choose a topic
When choosing a topic for your quiz, think about the challenges facing your readers. What are their goals? What problems are they trying to solve when they come to your website?
If you are a public speaking coach, for example, your quiz could be titled: "Do you have what it takes to be a 6 figure public speaker?" If you are an optometrist, your quiz might be titled: "What frames fit your budget, personality, and lifestyle?" If your website is about marketing, your quiz could be titled: "What kind of email marketer are you?"
Step 2. Determine your quiz results
The next thing you need to do is create some quiz results.
This sounds back-to-front - why would you identify the results of your quiz before you've even come up with the questions?
The quiz results are the purpose of the whole quiz. They are important for your visitor - that's why they will happily give you their email address. And they are important for you, as well - the quiz results allow you to sort your visitors into categories or 'buckets', depending on what their needs are.
And that's why you need to start with the results. You then create questions that will lead to those five different results.
Continuing with the example of a quiz about email marketing, your quiz results might be:
Result #1: You need email marketing software
Result #2: You need a lead magnet with an opt-in form
Result #3: You need an email sequence
Result #4: You need high-converting email templates
Result #5: You need content ideas for your email updates
Sorting your quiz-takers into these five categories allows you to recommend resources to them that are relevant to where they are in their journey.
For example, for people in result #1, you could recommend an email marketing service. For people in result #2, you could send them a PDF of your article explaining how to create a lead magnet.
And so on.
Step 3. Formulate your questions
Next, you need to come up with your quiz questions.
Remember that we are working backward from the results. So you need to ask questions that will lead to each of those five results.
Q1: I have an email marketing platform (Yes/No)
Q2: I have a lead magnet (Yes/No)
Q3: I have an email sequence (Yes/No)
Q4: My emails are converting well (Yes/No)
Q5: I struggle to come up with ideas for my email updates (Yes/No)
Obviously, these are very basic questions.
Try to make your questions a bit more entertaining and thought provoking. Here are some different types of questions you can adapt to almost any quiz topic:
How often do you _____ (e.g. work out, create new blog posts, tell your spouse you love them)
On a scale of 1 to 10, how _____ are you? (happy with your relationship, satisfied with your job, easy-going)
A genie grants you one wish - what do you wish?
How likely are you to _____? (stop drinking, stick to your budget, take an overseas vacation this year)
Which image best describes your _______? (perfect living space, wedding style, idea of a good time)
Step 4. Assign each answer to a result
You then need to use the 'results correlation tool' in your quiz software to match each answer to a result.
Each quiz software has its own way of matching answers to results.
This is what it looks like in the Interact quiz maker:
Step 5. Email-gate your quiz results
The last thing to do is add an opt-in form - this is where you ask the user for an email address where you can send the quiz results:
Tips for creating a quiz lead magnet
Here are some tips to keep in mind as you design your quiz lead magnet:
#1 - Pick a quiz topic related to your website. Ensure that your quiz lead magnet aligns with the service or product you're offering.
#2 - Keep your quiz short. The more questions in your quiz, the less like that people will complete the quiz. Aim for 5 to 10 questions.
#3 - Select the right quiz type. Which type of quiz lead magnet will best suit your audience? An outcome quiz, scored result quiz, diagnosis quiz, a personality test?
#4 - Don't structure your quiz like a survey. Don't ask a series of boring questions about the user.
#5 - Create your quiz results before your quiz questions. The quiz results are the reason your visitors are taking the quiz, so put some time and effort into making sure the results help the quiz-taker with their problem.
#6 - Use multiple choice answers. People are more likely to complete your quiz if they have to choose from 3 to 5 pre-defined answers.
#7 - Create results that prompt action. Make sure your quiz results lead to an action related to your website's products or services.
#8 - Segment your leads. Use the results of the quiz lead magnet to segment your audience into different groups. For example, a travel site could use a quiz to segment visitors into backpackers, adventure travelers, hotel stayers, cruise takers, etc.
#9 - Test your quiz on different devices. Make sure your quiz displays well on mobile and tablet.
Using branching logic in your quiz
Branching logic, also known as skip logic or jump logic creates a custom path through your quiz, based on a user's response.
In a quiz that branches, questions appear only if they are relevant to the respondent. If the questions don't apply, the respondent is redirected to a different set of questions or will skip a set of questions altogether.
This is a powerful quiz-making feature because it customizes the experience to that particular user. The previous answer the user gave determines the next question they get. This creates an individual path for each user.
One benefit of branching logic in quizzes is that it reduces completion time — with branching logic, users only answer relevant questions, and that reduces the number of questions they must answer. This reduces the number of users who drop out along the way.
Branching logic also makes your quiz lead magnet feel more intuitive for the user. For example, if a user answers "No" to "Are you a dog lover?", they won't be asked questions like "what's your favorite breed of dog?"
The three quiz makers mentioned in this article all use a form of branching logic.
This is the visual branching logic editor in Interact:
In Outgrow you can set up 'logic jumps' based on certain conditions:
In the Involve Me quiz maker you can choose a page that an answer should jump to after being filled in:
Choosing the right quiz platform
There are many different online quiz makers to choose from. But they don't all have the functionality you would need to create the kind of quiz lead magnet I have described above.
Here are three online quiz platforms that will allow you to create a results-based quiz, as described in this article.
Interact Quiz Maker
Interact Quiz Maker offers the following features:
Types of quizzes offered: Personality, Assessments, and Scored quizzes.
Templates: 800+ premade templates in 40 categories.
Customization: Personalize design elements to help integrate with your branding.
Email-gate quiz results: Yes - capture the emails of your quiz takers to start building your email list.
Integration: Integrates with 36 different marketing platforms including Mail Chimp, ConvertKit, Active Campaign, Drip, Kajabi, Ontraport, etc
Branching logic: Yes - has a branching logic visual editor.
Analytics: See how users are responding to your quizzes, including if and when they are dropping off.
GDPR compliant: Yes. Includes 'Required Opt-In Consent', 'Lead Data Deletion', 'Lead Data Portability', and 'Required Tracking Consent'.
Lite - $17/mo paid annually
Unlimited quizzes + completions
Up to 60k email leads a year
Branching Logic
Basic Integrations
Help Docs, Live Chat + Email
Growth - $53 /mo paid annually
Everything in Lite
Up to 120k email leads a year
White label - you can replace the Interact logo with your own
Intermediate Integrations: Basic Integrations + HubSpot, Infusionsoft, Maropost, and Ontraport
Conversion tracking
Advanced Analytics: Optimize your quiz with aggregated audience data and drop-off graphs
Pro - $125/mo paid annually
Everything in Growth
Advanced Integrations: Intermediate Integrations + Act-On
Unlimited email leads per year
Involve Me Quiz Maker is another good online quiz platform. It offers the following features:
Types of quizzes offered: Quiz, online form, payment form, survey calculator, personality test, lead page, and link list.
Templates: 200+ templates in 8 different categories
Customization: Add your logo, fonts, colors, gifs, and images for a custom look
Email-gate quiz results: Collect data with over 15 predefined form fields, from email and name to address and social media profile links
Integration: 300+ integrations to your favorite apps
Branching logic: Yes - uses conditional submission logic. Logic jump allows you to skip answers.
Analytics: Track visits, submissions, completion rates, average time & score. Visualize your conversion funnels, analyze geographic distribution & break down by device type. See at which point in your funnel the users stop interacting.
GDPR compliant: Yes, offers you the tools to easily create GDPR-compliant content, such as customizable checkboxes and legal text suggestions for the services you use.
Starter - $19 p/mo paid annually
1,000 submissions per month
Single user
Google fonts
Unlimited projects
Embed in any website
Basic support
1 payment platform
Professional - $49 p/mo paid annually
Everything in Starter
10,000 submissions per month
3 payment platforms
1 custom font
Business - $149 p/mo paid annually
Everything in Professional
15,000 submissions per month
10 custom fonts
Outgrow Quiz Maker
Outgrow is a fully-featured marketing platform centred around quizzes as a lead generation tool. Outgrow offers the following features:
Types of quizzes offered: Eight different content types including quizzes, surveys, recommendations, and polls
Templates: Over 1000 pre-made content pieces and funnels
Customization: Brand your quiz with your logo, your colors, your fonts, and your visual assets.
Email-gate quiz results: Yes - add a lead form on welcome screen, after questions, before results, and on the results page.
Integration: Integrate your quizzes with more than 1000+ marketing tools like GetResponse, Zapier, Google Sheets, and many more.
Branching logic: Yes - allows you to set conditional logic jumps. Unlimited branches for each question. Send respondents down different paths based on their responses.
Analytics: Conversion rate at each stage of the quiz, section, and question level funnel charts, plus detailed analytics for each user.
GDPR compliant: Yes - option to add a mandatory consent checkbox to your lead generation form.
Freelancer Limited - $14 p/mo paid annually
3 content types (Outcome quiz, Assessment quiz, Form/Survey)
5 Content Pieces
12,000 leads per year
1 user
Embed Anywhere
Custom branding - add your logo, change theme colors, cannot remove Outgrow branding
Standard integrations
Formula & Logic Jump
Analytics & Tracking
Support docs + Live Chat
Freelancer - $25 p/mo paid annually
Everything in Freelancer Limited
7 Content Types (Outcome quiz, Assessment quiz, Form/survey, Poll, Calculator, eCommerce recommendation, Giveaway)
6 Content Pieces
12,000 leads per year
Essentials - $95 p/mo paid annually
Everything in Freelancer
8 Content Types (Outcome quiz, Assessment quiz, Form/survey, Poll, Calculator, eCommerce recommendation, Giveaway, Chatbot)
90,000 leads per year
Unlimited content pieces
3 users
Support docs + Live Chat + Email
Business - $600 p/mo paid annually
Everything in Essentials
All Content Types (Outcome quiz, Assessment quiz, Form/survey, Poll, Calculator, eCommerce recommendation, Giveaway, Chatbot)
600,000 leads per year
10 users
Advanced Integrations, webhooks
Support docs + Live Chat + Email + Phone support
My Recommendation
My favorite of these three quiz makers is Interact.
That's because Interact has a visual branching logic editor. I find it very useful to visualize the funnel that my quiz questions create. And you can't do that with Outgrow or Involve Me.
I also find Interact's layout more intuitive and easier to understand.
However, Interact may not be the best choice for everyone. It only offers three content types (personality, assessment, and surveys). Outgrow and Involve Me both give you eight different content types.
Outgrow is the most complex of the three quiz builders and it has a steeper learning curve than the others. But for marketers who have the time to invest in learning how to use it, Outgrow offers more conversion tools and customizations than either Interact or Involve Me.
The easiest to use of the three quiz builders is Involve Me. The 'block' builder user interface will be familiar to anyone who has used a drag-and-drop page builder such as Elementor.
But if you just want to build a quiz quickly with minimum bother, then Involve Me is the best choice.
Conclusion
Quizzes are a powerful tool for turning passive visitors into people actively engaged with your website. Quiz lead magnets can result in conversion rates of up to 60%, and they are ideal for creating funnels that guide your visitors to different products and services based on their preferences.
If you aren't already using quizzes for lead generation, this article on how to make a quiz lead magnet will hopefully get you started.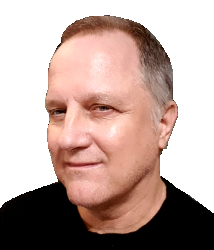 Latest posts by Rob Powell
(see all)