Wondering how to install WordPress on Blue Host?
Don't worry – It's super easy.
In this tutorial I'm going to walk you through it as I setup my own website on Blue Host.
Let's get started!
Step ONE – Get Started
First, click on the green 'Get Started Now' button below (don't worry – it will open in a new window, so you won't lose this tutorial):
Step TWO – Choose a Plan
On the next screen, choose the 'Basic' plan ($2.95 per month):
Step THREE – Choose a Domain
The next screen will ask you if you need a domain or whether you already have one.
If you don't yet have a domain, click on the left-side option:
Next, enter the domain name that you want to register:
Step FOUR – Enter Your Contact Details
On the next screen, enter your contact details:
Step FIVE – Choose 1 Year of Hosting
You'll now be given options for 1 year, 2 years, or 3 years of hosting.
Choose 1 year to begin with. It's the smallest initial outlay and it allows you to review your options at the end of 12 months.
Notice that SSL (secure socket layer) is included in the price. This gives you a domain with https:// instead of just http:// – in other words, a more trustworthy website address.
Step SIX – Add Domain Privacy Protection
On the next screen you'll be offered some add-ons. The only add-on I recommend is domain privacy protection.
What is domain privacy protection?
When you register a domain, ICANN (Internet Corporation for Assigned Names and Numbers) – the body responsible for allocating IP addresses and domain names – requires that you also register your street address, email address and phone number.
If you don't take out domain privacy protection, that information can easily become available to complete strangers.
Step SEVEN – Add Payment Details
On the next screen enter your payment information and press 'submit':
Success – You've Installed WordPress on Blue Host!
Once your payment has been accepted, you'll see this message:
Click 'no thanks' (unless you're setting up an ecommerce site).
Next, you'll see a second 'Welcome to Blue Host' message. Click on the green button to set your Blue Host password:
Enter your password twice, check the box saying you've read the terms and conditions, and click 'Next':
Building Your Site
1. Choose a theme
On the next screen you'll be offered various themes.
These are all free versions of paid themes. You don't have to choose any of these themes, but in this example, I'm going to choose the 'Bizworx' theme:
How to Install WordPress on Blue Host
2. Waiting for your domain name to propagate
You'll now see a screen telling you that you can start building your website.
However, it takes a while (up to 48 hours) for your domain name to 'propagate' to the Blue Host servers. So, you'll see a message saying you've been given a temporary domain while your proper domain name is propagating to Blue Host.
3. Start building
Click 'Start Building' and then choose whether you want to build a business website or a personal website.
If you aim to monetize your website (i.e. make money from your blog) then you need to click 'business'. But if your blog is just going to be a hobby, then click 'personal':
4. Set the title and the description
On the next screen, enter the title of your blog or website and a description of what your blog does. This information appears in browser tabs and is also used in search engine results pages (SERPs):
5. Choose type of home page
Next, you'll be given two options:
create a static home page
create a dynamic home page that automatically updates with your latest blog posts
Most boggers want visitors to their home page to see their latest articles or blog posts. So unless you have a particular reason for wanting a static home page, you should click on 'Yes':
For some reason Blue Host asks you this question twice:
If you see a second screen asking you the same question again (as above) click 'Skip this step'.
6. Launch your site
As I said, it may take up to 48 hours for your domain name to propagate to the Blue Host servers.
The next screen is a message from Blue Host saying that your website is displaying a 'Coming Soon' message.
Just click on the 'Launch Your Site' button:
7. First glimpse of the WordPress 'backend'
You'll now be taken to the 'backend' (aka WordPress dashboard) of your website.
Notice the orange tab telling you that your site is in 'coming soon' mode:
Here's an important distinction for beginning bloggers:
The backend of your website is where you add new content and customize the appearance of your website.
The frontend is what the public sees. Visitors to your website see the frontend but not the backend.
8. Customizing the header
The first thing you'll probably want to do is customize the appearance of your header.
There are two things about the header you may want to change:
the height of the background image
the text description of your site
To change the height of the header background image, go to the side menu in your WordPress dashboard and choose Appearance > Customize:
In the left-side Customize menu, click on Header section:
Then click on Header Background:
Now scroll down to the bottom of the left-side menu till you find the Header height field:
The default setting is 600 pixels – way too high for my liking!
Change the height to 300 or whatever height suits you best:
You'll now have a header that looks a lot more like a standard blog. And the blog posts on your home page will no longer be pushed down below the 'fold'.
To get rid of the red button sitting smack in the middle of your header, just delete the word 'button' in the field titled 'Text on button':
Once you've removed the word 'Button', the button disappears:
But there's one more thing you may want change in the header: let's get rid of the text blog title and description and replace them with a header logo.
In the Appearance > Customize menu, go to Site Identity:
You'll see the fields for Site Title and Tagline:
Delete the text in the Site Title and Tagline fields:
Now click Select logo and upload your logo.
Your logo should be no more than 512 pixels wide. The height of your logo should be less than the height of your header background (in this example, 300 pixels):
Conclusion
That's it – you have now successfully installed WordPress on Blue Host. And you've also customized the header of your blog or website.
In my next WordPress tutorial, I'll show you how to choose a WordPress theme and customize it to your liking.
See you then!
Related Articles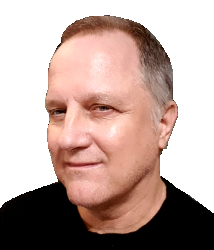 Latest posts by Rob Powell
(see all)